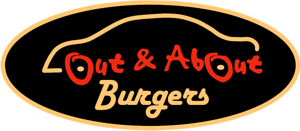 Open 11am to 8pm
We are located at 14212 Meridian Ave E Puyallup, WA 98373
253 677-1974
The Food Is What We Are All About
At Out & About we are dedicated to quality and the experience you drive away with. Our ingredients are fresh. The patties are hand pressed. The buns are toasted right on the grill.

However, there is more than just the food. The Out & About family team is passionate about providing our neighbors, like you, with an experience where you know you are part of our community.

More nutritional information

All Burgers Come With:

Hand-leafed lettuce
Grilled onion (Fresh available on request)
Just sliced tomato
And a 1000 like Dress
Add pickles on request!

Or get the "BMC" which means
Bun, Meat, Cheese!
Just 2 Meat and 3 Cheese!
Its for the purist that wants NO salad bar touching their hamburger!